SSM-102-L-DH and VIPER25HN delivered to France via DHL.
SSM-102-L-DH and VIPER25HN From Hongkong to France via DHL.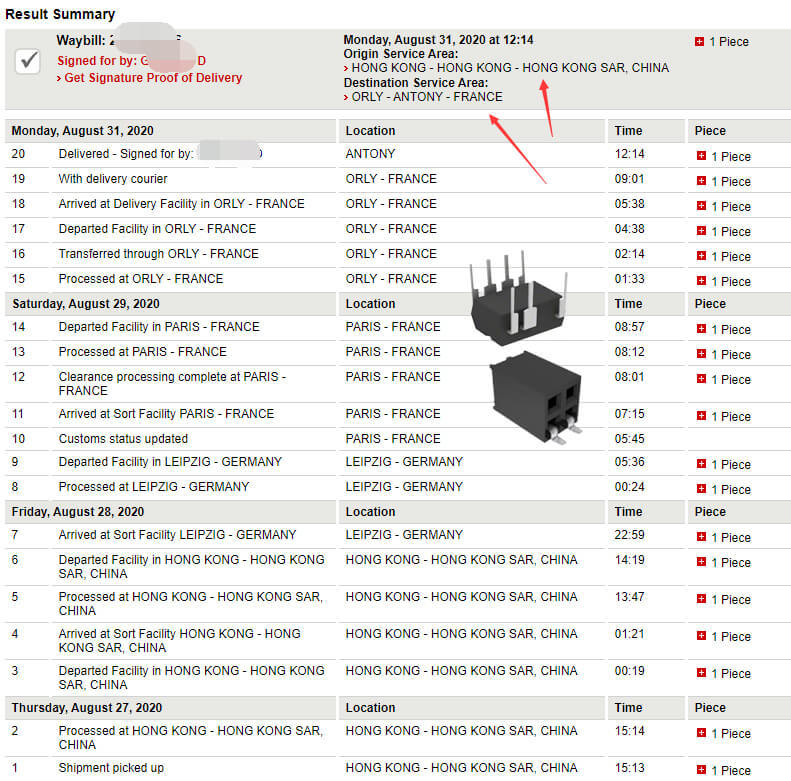 SSM-102-L-DH Samtec Inc. 2K 2019+ 1.35USD | Discontinued at Digi-Key
Categories: Connectors, Interconnects | Rectangular Connectors - Headers, Receptacles, Female Sockets
Description: 4 Position Receptacle Connector Surface Mount, Right Angle
VIPER25HN by STMicroelectronics | Electronic Components Supplier in China
Datasheets: https://bit.ly/3gViRYE
Manufacturer: STMicroelectronics
Description: Converter Offline Flyback Topology 225kHz 7-DIP
Features:
■ 800 V avalanche rugged power section
■ Quasi-resonant (QR) control for valley switching operation
■ Standby power < 50 mW at 265 Vac
■ Limiting current with adjustable set point
■ Adjustable and accurate overvoltage protection
■ On-board soft-start
■ Safe auto-restart after a fault condition
■ Hysteretic thermal shutdown
Applications:
■ Adapters for PDA, camcorders, shavers, cellular phones, cordless phones, videogames
■ Auxiliary power supply for LCD/PDP TV, monitors, audio systems, computer, industrial systems, LED driver, No el-cap LED driver, utility power meter
■ SMPS for set-top boxes, DVD players and recorders, white goods
Description:
The device is an off-line converter with an 800 V rugged power section, a PWM control, double levels of overcurrent protection, overvoltage and overload protections, hysteretic thermal protection, soft-start, and safe auto-restart after any fault condition removal. Burst mode operation and device very low consumption help to meet the standby energy-saving regulations. The quasi-resonant feature reduces EMI filter cost. Brownout and brown-in function protect the switch mode power supply when the rectified input voltage level is below the normal minimum level specified for the system. The high voltage start-up circuit is embedded in the device.
If you want to buy electronic components from China. Please contact us to get your high- quality parts. Our strong brands include Microchip, ON Semiconductor, Altera, Xilinx, TI, and so on. Besides, we provide a 400-day warranty and a good price.
Our benefits:
1. Competitive price with shortest lead time.
2. 400-Days Warranty for all parts.
3. Free samples and maybe free shipping.
4. BOM and PCB & SMT service.
5. Sourcing obsolete and hard to find electronic components.
More product information: YouTube | Facebook | LinkedIn
Next: 1200pcs Electronc Components Delivered to Bulgaria, Just 3days