IRL3103PBF Infineon Transistor Mosfet 30V 64A
IRL3103PBF N-Channel Mosfet 30V 64A TO-220AB is manufactured by Infineon. Today we listed the IRL3103PBF Infineon Mosfet datasheet, inventory and pricing as follows.
IRL3103PBF Infineon Transistors Supplier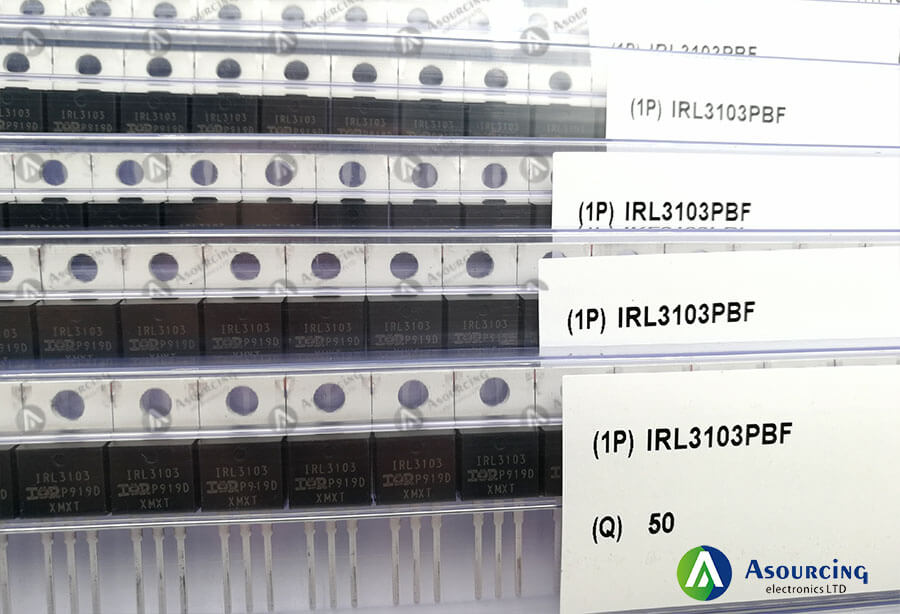 ⑴ Product Number: IRL3103PBF
⑵ IRL3103PBF Manufacturer: Infineon Technologies
⑶ Category: Discrete Semiconductor Products | Transistors - FETs, MOSFETs - Single
⑷ Description: N-Channel 30V 64A (Tc) 94W (Tc) Through Hole TO-220AB
⑸ Datasheet: https://bit.ly/3BEOArY
⑹ FET Type: N-Channel
⑺ Technology: MOSFET (Metal Oxide)
⑻ Drain to Source Voltage (Vdss): 30 V
⑼ Current - Continuous Drain (Id) @ 25°C: 64A (Tc)
⑾ Power Dissipation (Max): 94W (Tc)
⑿ Mounting Type: Through Hole
⒀ Package / Case: TO-220-3
⒁ Supplier Device Package: TO-220AB
⒂ RoHS Status: ROHS3 Compliant
⒃ IRL3103PBF
• Advanced Process Technology
• Ultra Low On-Resistance
• Dynamic dv/dt Rating
• 175°C Operating Temperature
• Fast Switching
• Fully Avalanche Rated
• Lead-Free
IRL3103PBF Infineon Transistors mosfet label
IRL3103PBF Description
Advanced HEXFETÆ Power MOSFETs from International Rectifier utilize advanced processing techniques to achieve extremely low on-resistance per silicon area. This benefit, combined with the fast switching speed and ruggedized device design that HEXFET power MOSFETs are well known for, provides the designer with an extremely efficient and reliable device for use in a wide variety of applications.
The TO-220 package is universally preferred for all commercial-industrial applications at power dissipation levels to approximately 50 watts. The low thermal resistance and low package cost of the TO-220 contribute to its wide acceptance throughout the industry.
IRL3103PBF Infineon Transistors Supplier
Are you sourcing Infineon transistors in the network, maybe we will be your best choice. We are providing Infineon transistors with years of experience, and provide better quality and competive price than other electronic parts suppliers. If you want to buy the transistors at the shortest time, please do not hesitate to contact us to check the components stock quantity and price.
Besides, we can provide diodes, transistors, and IC parts from the leading electronic components manufacturers such as Infineon, DIODEs, NXP, STMicroelectronics, Bourns, littelfuse, and more. Please feel free to share your inquiry and target price.
Asourcing provide the benefits for you

1. Competitive price with shortest lead time.
2. 400-Days Warranty for all parts.
3. Free samples and maybe free shipping.
4. Sourcing obsolete electronic components.
More product information: YouTube | Facebook | LinkedIn

Next: IRFR3410TRPBF Infineon Transistor Mosfet 100V 31A Supplier