Shipments From HK to Finland, took 4 days only.
Electronic Components From HK to Finland,took 4 days only
1. NCP308SN180T1G ON 2019+ 3000pcs €0.24
2. 24AA02T-I/OT MICROCHIP 2019+ 3000pcs €0.07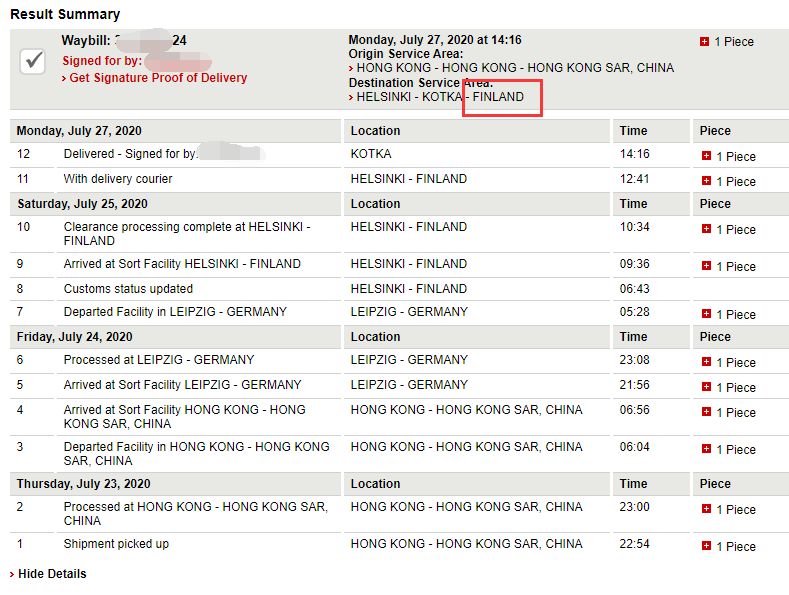 NCP308SN180T1G | Electronic Components Distributor in China
▶ Manufacturer:ON Semiconductor
▶ Categories:Integrated Circuits (ICs) | PMIC - Supervisors
▶ Description:Supervisor Open Drain or Open Collector 1 Channel 6-TSOP
▶ The NCP308 series is one of the ON Semiconductor Supervisory circuit IC families. It is optimized to monitor system voltages from 0.405 V to 5.5 V, asserting an active low open−drain RESET output, together with Manual Reset (MR) Input. The part comes with both fixed and externally adjustable versions.
▶ Typical Applications:
• DSP or Microcontroller Applications
• Notebook/Desktop Computers
• PDAs/Hand−Held Products
• Portable/Battery−Powered Products
• FPGA/ASIC Applications
▶ Features
• Wide Supply Voltage Range 1.6 to 5.5V
• Very Low Quiescent Current 1.6 A
• Fixed Threshold Voltage Versions for Standard Voltage Rails Including 0.9V, 1.2V, 1.25V, 1.5V, 1.8V, 1.9V, 2.5V, 2.8V, 3.0V, 3.3V, 5.0V
• Adjustable Version with Low Threshold Voltage 0.405 V (min)
• High Threshold Voltage Accuracy: 0.31% typ
• Support Manual Reset Input ( MR)
• Open−Drain RESET Output (Push−pull Output upon Request)
• Flexible Delay Time Programmability: 1.25 ms to 10 s
• Temperature Range: −40°C to +125°C
• Small TSOP−6 and WDFN6 2 x 2 mm, Pb−Free packages
• NCV Prefix for Automotive and Other Applications Requiring Unique Site and Control Change Requirements; AEC−Q100 Qualified and PPAP Capable
• These are Pb−Free Devices
24AA02T-I/OT | Electronic Components Distributor in China
▶ Manufacturer: Microchip Technology
▶ Categories: Integrated Circuits (ICs) | Memory
▶ Description: EEPROM Memory IC 2Kb (256 x 8) I²C 400kHz 900ns SOT-23-5
▶ The Microchip Technology Inc. 24XX02(1) is a 2-Kbit Electrically Erasable PROM. The device is organized as one block of 256 x 8-bit memory with a 2-wire serial interface. Its low-voltage design permits operation down to 1.7V with standby and active currents of only 1 μA and 1 mA, respectively. The 24XX02 also has a page write capability for up to 8 bytes of data.
▶ Features
• Single Supply with Operation down to 1.7V for 24AAXX and 24FCXX Devices, 2.5V for 24LCXX Devices
• Low-Power CMOS Technology:
- Read current 1 mA, maximum
- Standby current 1 μA, maximum (I-temp.)
• 2-Wire Serial Interface, I2C Compatible
• Schmitt Trigger Inputs for Noise Suppression
• Output Slope Control to Eliminate Ground Bounce
• 100 kHz, 400 kHz and 1 MHz Compatibility
• Page Write Time: 5 ms, Maximum
• Self-Timed Erase/Write Cycle
• 8-Byte Page Write Buffer
• Hardware Write-Protect
• ESD Protection >4,000V
• More than 1 Million Erase/Write Cycles
• Data Retention >200 Years
• Factory Programming Available
• RoHS Compliant
• Temperature Ranges:
- Industrial (I): -40°C to +85°C
- Extended (E): -40°C to +125°C
• Automotive AEC-Q100 Qualified
If you want to find electronic components that are manufactured by Microchip or ON Semiconductor. Pls, contact us to get your high- quality parts. Our strong brands include Microchip, ON Semiconductor, Altera, Xilinx, TI, and so on. Besides, we provide a 400-day warranty and a good price.
Our benefits:
1. Competitive price with shortest lead time.
2. 400-Days Warranty for all parts.
3. Free samples and maybe free shipping.
4. BOM and PCB & SMT service.
5. Sourcing obsolete and hard to find electronic components.
More product information: YouTube | Facebook | LinkedIn
Next: HCPL-7510-060E delivered to Italy via DHL