IRFR5505TRPBF Infineon Mosfet 55V 18A TO-252
IRFR5505TRPBF P-Channel Mosfet 55V 18A TO-252 is manufactured by Infineon. Today we listed the IRFR5505TRPBF Infineon Mosfet datasheet, inventory and pricing as follows.
IRFR5505TRPBF Infineon Transistors Original Label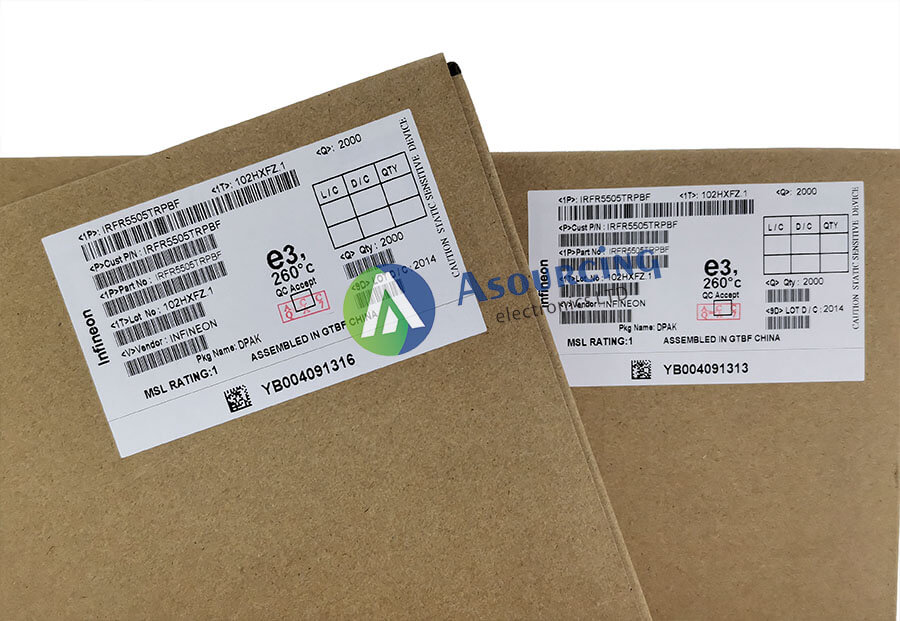 ⑴ Product Number: IRFR5505TRPBF
⑵ IRFR5505TRPBF Manufacturer: Infineon Technologies
⑶ Category: Discrete Semiconductor Products | Transistors - FETs, MOSFETs - Single
⑷ Description: P-Channel 55V 18A (Tc) 57W (Tc) Surface Mount D-Pak
⑸ Datasheet: https://bit.ly/3DHnph7
⑹ FET Type: P-Channel
⑺ Technology: MOSFET (Metal Oxide)
⑻ Drain to Source Voltage (Vdss): 55V
⑼ Current - Continuous Drain (Id) @ 25°C: 18A (Tc)
⑾ Power Dissipation (Max): 57W (Tc)
⑿ Mounting Type: Surface Mount
⒀ Package / Case: TO-252-3
⒁ ase Product Number: IRFR5505
⒂ RoHS Status: ROHS3 Compliant
⒃ IRFR5505TRPBF
• Ultra-Low On-Resistance
• P-Channel
• Surface Mount (IRFR5505)
• Straight Lead (lRFU5505)
• Advanced Process Technology
• Fast Switching
• Fully Avalanche Rated
• Lead-Free
• Halogen-Free
IRFR5505TRPBF Infineon Transistors Supplier
IRFR5505TRPBF Description
Fifth Generation HEXFETs from International Rectifier utilize advanced processing techniques to achieve extremely low on-resistance per silicon area. This benefit, combined with the fast switching speed and ruggedized device design that HEXFET Power MOSFETs are well known for, provides the designer with an extremely efficient and reliable device for use in a wide variety of applications.
The D-Pak is designed for surface mounting using vapor phase, infrared, or wave soldering techniques. The straight lead version (IRFU series) is for through-hole mounting applications. Power dissipation levels up to 1.5 watts are possible in typical surface mount applications.
IRFR5505TRPBF Infineon Transistors Supplier in China
IRFR5505TRPBF Infineon transistor is available in Asourcing Electronic. We can provide better quality and competive price for you. As you can see, we are providing Infineon transistors for many customers all over the world. If you are finding the supplier of transistors, please do not hesitate to contact us. We can check the components stock quantity and price for you.
Besides, we can provide diodes, transistors, and IC parts from Infineon, DIODEs, NXP, STMicroelectronics, Bourns, littelfuse, and more manufacturers. Please feel free to share your inquiry and target price.
Asourcing provide the benefits for you

1. Competitive price with shortest lead time.
2. 400-Days Warranty for all parts.
3. Free samples and maybe free shipping.
4. Sourcing obsolete electronic components.
More product information: YouTube | Facebook | LinkedIn

Next: IRFR3410TRPBF Infineon Transistor Mosfet 100V 31A Supplier